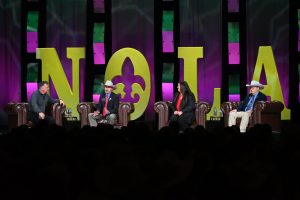 Nearly 7,000 cattle producers, industry partners and stakeholders have gathered in New Orleans this week for the 2023 Cattle Industry Convention & NCBA Trade Show with the first general session on stage Wednesday afternoon.
This year's event kicked off with Franki Moscato, winner of the 10th Annual NCBA National Anthem Contest, singing the "Star-Spangled Banner." Buzz Brainard, host of Music Row Happy Hour, returned as convention emcee and chatted with National Cattlemen's Beef Association president Don Schiefelbein, American National Cattlewomen president Reba Mazak, and Cattlemen's Beef Board chair Norman Voyles, Jr.
Unfortunately, due to the major ice storm across Texas, the widely anticipated appearance by "Yellowstone" creator Taylor Sheridan had to take place remotely. But surprise guest Archie Manning, patriarch of a professional football legacy and former quarterback of the New Orleans Saints, provided a good backup.
The award-winning NCBA Trade Show opened last night with a New Orleans-style reception featuring more than 350 exhibitors and displays across eight acres under one roof along with a variety of educational opportunities. The convention runs through tomorrow.
2023 CattleCon Star Spangled Banner, Frankie Moscato
(1:37)
2023 CattleCon general session - organization leadership
(13:19)
2023 Cattle Industry Convention and NCBA Trade Show Photo Album