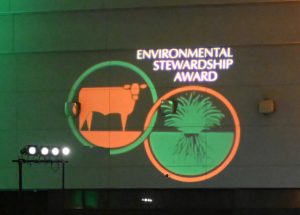 The National Cattlemen's Beef Association (NCBA) recognized seven of the nation's top cattle operations as Environmental Stewardship Award Program (ESAP) regional winners for their environmental conservation efforts during the 2023 Cattle Industry Convention & NCBA Trade Show in New Orleans. The regional winners will compete for the national award, which will be presented during NCBA's Legislative Conference in Washington, D.C., April 24-27, 2023.
The regional winners are:

Region I: Lamb Farms, Inc., Oakfield, New York
The Lamb and Veazey families farm more than 12,000 acres over three locations as part of their dairy operation. Located within three watersheds, Lamb Farms, Inc. has made it a priority to operate their dairy with environmental practices such as two anaerobic digestors that capture methane and generate energy for electricity and clean natural gas.
Region II: Carter Cattle Company, LLC, Pintlala, Alabama
Sustainability began as a lifestyle more than a practice seven generations ago in the mid-1820s when the Carter Cattle Company was established. Management decisions are made with the future in mind, with a forage-based feeding program through rotational grazing a priority.
Region III: Huth Polled Herefords and S&H Livestock Enterprises, LLC, Oakfield, Wisconsin
Over the past 60 years, Jerry Huth has established a reputation for genetics and cattle which are productive and profitable and Josh Scharf first joined the operation as an employee then transitioned into ownership through S&H Livestock Enterprises. Together, their expanded enterprise required more pasture, leading the team to pursue utilizing 130 acres of state-managed public land that borders the farm.
Region IV: Parks Ranch, Goliad County, Texas
Raised in Corpus Christi, David Crow is a first-generation cattle producer who bought his first cattle in 1978 and purchased the 4,200-acre Parks Ranch in 2000. David and his son, Matt, have a strong history of managing coastal prairie consistently implementing conservation management techniques including winter and summer prescribed burns, brush management, and rotational grazing plans.
2023 CattleCon interview with ESAP regional winner David Crow, Texas (9:55)
Region V: Mannix Brothers Ranch, Helmville, Montana
Mannix Brothers Ranch began in 1882 and now the fourth and fifth generations steward the land and livestock. Brothers David, Randy and Brent, along with their families manage the diversified ranching business. The family is focused on improving soil health, and intensive rotational grazing resulted in using less irrigation water and little to no fertilizer, while increasing production on the ground.
2023 CattleCon interview with ESAP regional winner David Mannix, Montana (9:39)
Region VI: Fulstone Ranches, Smith, Nevada
The Fulstone family has been working the land and raising livestock in Nevada since 1856, and today the ranch is operated by the sixth and seventh generations. The family works tirelessly fine tuning their operation to improve not only forage quality for livestock, but to also sustain the habitat for wildlife species such as the Bi-State Sage-Grouse. The Fulstones are also on the forefront of soil health using worm tea, a natural liquid fertilizer made from worm castings. Water retention has increased as has the quality of feed.
2023 CattleCon interview with ESAP regional winner Emily Fulstone, Nevada (6:10)
Region VII: Jorgensen Land & Cattle Partnership, Ideal, South Dakota
At Jorgensen Land & Cattle, grazing rotations are developed based on the impacts to soil health, livestock feed demands, and the wildlife benefit created from good cover and plant diversity. Rotational grazing has increased grazing efficiency and improved the productivity of the grassland. The ranch practices diverse crop rotations, integrates livestock grazing on both grassland and cropland, and adds as few external inputs to the cropping or pasture systems as possible.
Established in 1991 by the National Cattlemen's Beef Association to recognize outstanding land stewards in the cattle industry, the Environmental Stewardship Award Program (ESAP) is generously sponsored by USDA Natural Resources Conservation Service (NRCS), Corteva Agriscience, McDonald's, U.S. Fish and Wildlife Service, and the National Cattlemen's Foundation.
2023 Cattle Industry Convention and NCBA Trade Show Photo Album