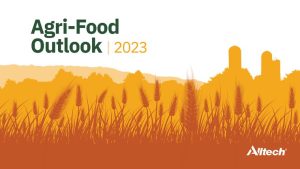 Alltech released its 2023 Alltech Agri-Food Outlook today, showing global feed production remained steady in 2022 at 1.266 billion metric tons, a decrease of less than one-half of one percent (0.42%) from 2021. The annual survey, now in its 12th year, includes data from 142 countries and more than 28,000 feed mills.
Europe bore the brunt of the impact, including significant disease challenges, severe weather and the impacts of the invasion of Ukraine. The global COVID-19 pandemic has had major impacts on the agri-food sector, contributing to supply chain challenges and accelerating the adoption of new technology and environmental sustainability practices.
The top 10 feed-producing countries over the past year were China (260.739 million metric tons [MMT]), the U.S. (240.403 MMT), Brazil (81.948 MMT), India (43.360 MMT), Mexico (40.138 MMT), Russia (34.147 MMT), Spain (31.234 MMT), Vietnam (26.720 MMT), Argentina (25.736 MMT) and Germany (24.396 MMT). Together, the top 10 countries produced 64% of the world's feed production, and half of the world's global feed consumption is concentrated in four countries: China, the U.S., Brazil and India. Vietnam experienced a great recovery in terms of its feed tonnage in 2022, entering the top 10 ahead of Argentina and Germany and crowding out Turkey, which reported reduced feed tonnage. Russia overtook Spain, where there was a significant reduction in feed production.
Key observations from the survey:
Feed production increased in several regions, including Latin America (1.6%), North America (0.88%) and Oceania (0.32%), while Europe decreased by 4.67%, Africa by 3.86% and the Asia-Pacific region also dropped 0.51%.
Globally, increases in feed tonnage were reported in the aquaculture, broiler, layer and pet food sectors, while decreases were reported in the beef, dairy and pig sectors.
Although it experienced a narrow reduction in feed production, China remains the largest feed-producing country in the world, followed by the United States and Brazil.