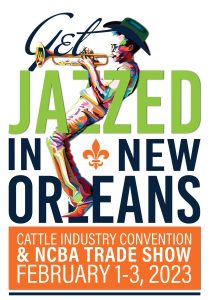 The 2023 Cattle Industry Convention and NCBA Tradeshow is right around the corner! Get ready to get jazzed February 1-3, 2023 in The Big Easy with cattlemen and women from around the country.
The annual convention will kick off on Feb. 1, with Buzz Brainard, host of Music Row Happy Hour, returning as emcee. The Opening General Session will include a casual conversation between "Yellowstone" creator Taylor Sheridan and NCBA President and Minnesota cattle producer, Don Schiefelbein. The two will discuss ranch life, today's challenges and sharing the industry's story in an authentic way. Sheridan is an Academy Award-nominated writer, actor, rancher as well as a member of the Texas Cowboy Hall of Fame.
CattleFax's outlook session will highlight demand and supplies for beef, cattle and competing proteins. Analysts will present a price and profitability outlook for 2023 and beyond for all classes of cattle and beef, explore export and import markets, and provide a grain outlook. Meteorologist Matt Makens will also give a 2023 weather forecast highlighting weather pattern changes for the United States and around the world.
Plan to attend the high-profile session on Friday morning and hear from government dignitaries as they provide an update on the beef business climate in the United States and around the globe, moderated by NCBA Vice President of Government Affairs Ethan Lane. 
The Closing General Session will celebrate the Beef Checkoff-funded Beef Quality Assurance (BQA) Program and BQA award winners and will feature keynote speaker Chris Koch, who doesn't let limitations or obstacles stand in his way. Despite being born without arms and legs, Koch grew up like any other small-town kid — playing road hockey, causing mischief at school, and helping on his family farm. Today, Koch is a motivational speaker who inspires his audiences to continually challenge themselves and build the life they always wanted.
Learn more about what's in store for CattleCon23 in this interview provided by the National Cattlemen's Beef Association with NCBA Executive Director of Meetings and Events Kristin Torres.
NCBA Convention preview interview 4:45