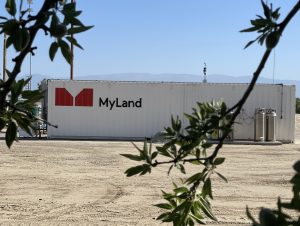 Soil health company MyLand has announced the successful first closing of its Series B financing round led by The Borden Family Trust and Waterpoint Lane. The new $12M investment will enable the expansion of the MyLand footprint and the strengthening of its innovation activities.
 
The new funding will significantly expand MyLand's approach to regenerative agriculture in California, Arizona, Florida, Texas, and the Pacific Northwest.
This closing is an important milestone for MyLand and puts the company in a strong financial position to fuel the growth and commercialization of for their Soil-as-a-ServiceTM while increasing the installed base of systems with large growers in efforts to improve soil health through their unique regenerative process. The MyLand Service delivers live, native microalgae directly into the soil on a continuous basis that improves the physical, chemical, and biological traits of the soil, generating significantly healthier soil which in turn leads to healthier food, healthier people, and a healthier planet.