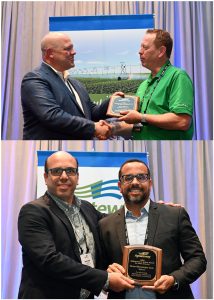 AgGateway wrapped up its annual conference last week with the presentation of awards to member volunteers who have demonstrated outstanding dedication and service to the organization and its mission to enable seamless digital connectivity in agriculture.
The AgGateway in Action Award is given to volunteers for exceptional work over the past year in their respective regions. The 2022 recipients are Jim Glynn, Senior Business Operations Manager for Winfield United in the North America region, and Bruno Lucio, Director of Sales, Latin America for Topcon Agriculture in the Latin America region. Lucio received the award from AgGateway Regional Director Jose Loyola and AgGateway President and CEO Brent Kemp presented the award to Glynn.
"The professionals we honored at the Conference have consistently gone above and beyond our expectations, providing time, talent, leadership, and dedication that have measurably moved our efforts forward," said Kemp.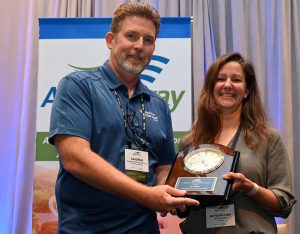 The Ron Storms Leadership Award, named for a pioneer in agriculture connectivity in the early days of AgGateway and its predecessor organizations, honors long-term effort, leadership, and achievement on behalf of the organization. The 2022 award recipient is Joe Gifford, Customer Service e-Connectivity Manager at Syngenta. He was presented the award by Ann Vande Lune of ag retailer Key Cooperative who was the recipient of the same award in 2019.
"We value the work of every volunteer," said Kemp at the ceremony's close. "Each and every one of you make it possible to move the agriculture industry forward on digital connectivity."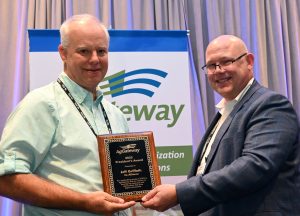 Last but not least, the President's Award is presented to one individual who has made consistent and far-reaching positive impacts on organizational achievement over the course of several years. The 2022 recipient is Jeff Griffeth, Senior Director of Technology at Co-Alliance Cooperative.
"We truly appreciate the extraordinary efforts of this year's award recipients, whose dedication to the mission is truly an inspiration to us all," said Kemp. "We thank them again for their exemplary service."
2022 AgGateway Annual Meeting Photo Album
Find more interviews posted in the AgGateway Annual Conference virtual newsroom.