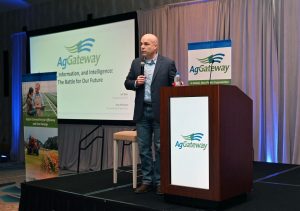 "Advancing Agribusiness: Embracing the Challenges Ahead" was the title of the keynote address at this week's AgGateway Annual Conference presented by Jeff Blair, President and CEO of GreenPoint Ag, a retail operation serving farmers across 10 southern states. Based in Decatur, Alabama, GreenPoint Ag operates 114 retail and wholesale agronomy locations in Alabama, Arkansas, Florida, Georgia, Kentucky, Louisiana, Mississippi, Missouri, Tennessee and Texas.
Blair believes the agribusinesses industry must aggressively face challenges and pursue opportunities in the crop production sector that help farmers find new ways to add value to their operations. "We have all these incredible platforms coming out to gather this data, but to turn it into something that is really beneficial for the farmer, you've got to have data standards to convert it to information and ultimately to intelligence to help the farmer," he said in an interview after his presentation. "Farmers know incentives…at the end of the day you can't ask a farmer to just go save the planet and give up their economics."
Listen to an interview with Blair from the AgGateway meeting here:
AgGateway keynote Jeff Blair, GreenPoint Ag 6:43
Find more interviews posted in the AgGateway Annual Conference virtual newsroom.