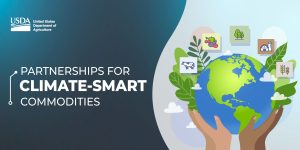 There's something for almost every commodity in the $2.8 billion dollars in Partnerships for Climate-Smart Commodities announced this week by USDA Secretary Tom Vilsack.
"Of the 70 proposals, five involve timber and forests, 13 involve livestock, 12 corn and soybean projects, six cotton, peanut and nuts projects; nine dairy projects, 13 projects involving fruits, vegetables and specialty crops; three involving hay, grass and energy crops; two hemp projects, four rice projects, and three wheat and other grain projects," said Vilsack. The projects are anticipated to involved 50,000 farms and 20 million acres in all 50 states and Puerto Rico.
Here are just a few of the project awards:
Trust In Food™, the sustainability division of Farm Journal, received a $40-million partnership to support different approaches to testing and evaluating climate-smart data and information in all segments of agriculture in ways that add increased value and support to producers. Program participation will equip farmers and ranchers with the information they need to be competitive in a climate-smart marketplace, including access to personalized support services, coaching and direct payments for eligible participants.
The National Association of Conservation Districts (NACD), through its national partnership, project partners and network of 3,000 conservation districts, received funding that will provide up to $90 million over 3 years for technical, financial, and marketing assistance.
Edge Dairy Farmer Cooperative will receive up to $50 million for a multi-partner project aimed at expanding climate-smart markets and establishing dairy and sugar as climate-smart commodities.
The International Fresh Produce Association has received up to $15 million for a pilot project titled "A Vibrant Future" to incentivize growers of specialty crops to adopt climate-smart production in order to establish a consumer-driven, climate-smart market for fruits and vegetables grown using climate-smart practices.
A partnership of 14 public and private entities led by Roeslein Alternative Energy (RAE) was awarded $80 million to be used in a five year pilot project in Iowa and Missouri called 'Horizon II' to demonstrate a "Climate-Smart Future for Corn, Soybean, Livestock, and Renewable Natural Gas Production."
The National Corn Growers Association (NCGA) today applauded up to $95 million in funding to help farmers accelerate cover crop adoption. The funding will support Farmers for Soil Health, which works to advance conservation practices to improve soil health across the U.S. The collaborative is comprised of commodity groups, including the National Corn Growers Association, American Soybean Association, the National Pork Board, and the United Soybean Board.
The US Beet Sugar Association (USBSA) and American Sugarbeet Growers Associations (ASGA) received a $50 million multi-partner award to establish dairy and sugar as climate-smart commodities by implementing climate-smart production practices, enhancing business practices, improving business practices for climate-smart commodities, and making use of data and information collected to inform future standards.
American Farmland Trust and partner organizations were awarded a $30 million grant to spearhead an effort to transition the U.S. Beef Supply Chain to carbon neutral. The eight-state project will amplify production of climate-smart beef by expanding market drivers, grassroots support networks and early adopter mentors, while also providing technical assistance for the adoption of climate-smart grazing practices to substantially reduce agricultural greenhouse gas emissions and increase carbon sequestration.