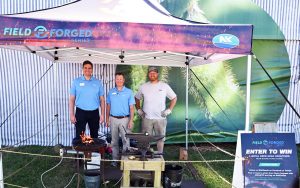 NK Seeds was highlighting new field data at the Farm Progress Show this week showing the superior performance of their 2023 Field Forged Series™ lineup of corn hybrids and soybean varieties.
According to the data, 51 NK® Field Forged Series corn hybrids landed in the top 10 in 2021 Farmers Independent Research of Seed Technologies (FIRST) tests.
"These multi-year results show what happens when high standards meet proven results," says Joe Bollman, NK Corn Products Manager. "Farmers who choose to plant Field Forged Series hybrids in 2023 can expect to see strong yield potential in their area of adaptation, as well as strong roots and stalks, consistency and excellent disease tolerance."
On the soybean side, 38 NK Field Forged Series soybean varieties landed in the top 10 in 2021 FIRST tests — and 13 of those placed within the top three.
"For the 2023 growing season, we're turning things up a notch, with yield and agronomic strength in every seed," says Eric Miller, NK Soybean Product Marketing Manager. "Each product in our latest lineup was hand-selected in response to grower demand for innovative agronomic traits, proven yield and herbicide trait flexibility. It's proving to be a powerful combination that's really driving farmers' profit potential."
Listen to Bollman and Miller discuss the benefits of the NK® Field Forged Series in this interview from Farm Progress Show.
FPS22 Interview with Joe Bollman and Eric Miller, NK Seeds (4:24)