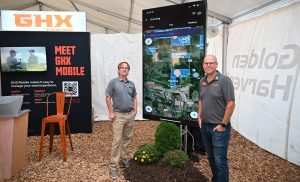 At the Farm Progress show this week, GHX by Golden Harvest® highlighted the launch of GHX™ Mobile, an online and app experience that puts the future of seed sales in the farmer's hands. GHX Mobile contains farm management tools farmers need, such as field scouting recommendations, yield tracking and predictions, weather and markets, all in one user-friendly place.
"GHX Mobile is built to support an end-to-end approach to farming that focuses on minimizing risk and maximizing potential revenue opportunities for farmers," says Justin Welch, head of digital ag for Syngenta Seeds, U.S. "The digital experience meets farmers' daily needs, from crop-specific weather and markets to in-season replants and pest issues."
GHX by Golden Harvest is changing the purchase and service experience for seed with MaxScript™, per acre pricing, ServiceSquad! and risk assurance benefits through the AgriClime™ weather protection offer.
"MaxScript allows growers to push plant populations to the max because there is no additional cost for the additional seed," says Brandon Leander, Syngenta Seeds North America business head of sales enablement software. "Recommendations are based on data-driven analytics and grower inputs, allowing farmers to select the best products at the right population in the right field."
Welch and Leander explain more about GHX Mobile in this interview form Farm Progress Show.
FPS22 Interview with Justin Welch and Brandon Leander, Syngenta Seeds (4:14)