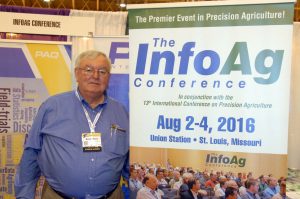 We are saddened to report the passing of precision agriculture industry pioneer Dr. Harold Reetz on August 15.
Reetz was a champion of technology and precision agriculture throughout his career, starting out in Extension in the Purdue University system in the 1970s. Reetz initiated the InfoAg Conference in the mid-1990s as a way of getting people together to build a community of technology vendors, users, and service providers. He spent 28 years with the International Plant Nutrition Institute (formerly Potash and Phosphate Institute), where he served as Midwest director, then became president of the Foundation for Agronomic Research and director of External Support until his retirement in 2010. He continued to advise on agronomic practices with his consulting company, Reetz Agronomics LLC. In 2010, Reetz received the Meister Media Worldwide PrecisionAg Legacy award.
Harold is survived by Christine Reetz, his wife of nearly 49 years; daughter, Carrie (Doug) Walsh of Kansas City, Mo.; sons, Wes (Alisa) of Washington, Ill., and Tony (Katie) of Tolono; sister, Cheryl (Jim) Hasting of Hoopeston; sister-in-law, Vicky Reetz; and nine grandchildren, Adrien, Zack, Isaac, Anna, Seth, Hannah, Cobie, Carli and Kaiser.
He was preceded in death by his parents, Harold and Evelyn Reetz; and brother, Michael Reetz. Services will be scheduled at a later date to celebrate Harold and the lives he touched and the minds he influenced. Condolences may be sent to the family at mackey-wrightfuneralhome.com.
Here is one of many interviews we have done with Dr. Reetz over the years.
Harold Reetz, InfoAg Conference