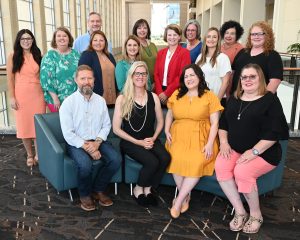 It is day one of the main activities for the Ag Media Summit in Raleigh, NC this year. On the weekend there were Saturday tours and on Sunday the board meetings took place for the Ag Communicators Network and Livestock Publications Council. The picture is the LPC on a break in their work.
Last evening the Famous Welcome Party featured a golf theme and lots of green since it was sponsored by John Deere. Today the opening general session will start out before professional improvement sessions take place throughout the day until the opening of the InfoExpo exhibit hall at the end of the afternoon.
I'm taking photos and will recording interviews throughout the rest of the conference and you can find the virtual newsroom we have set up for it on AgNewsWire.com.