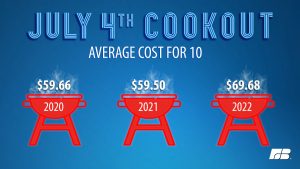 The cost of your July 4th holiday cookout has skyrocketed 17 percent since last year, according to the latest American Farm Bureau Federation survey.
According to the survey, the average cost of a summer cookout for 10 people is $69.68, or about $10 more than last year, which they attribute to ongoing supply chain disruptions, inflation and the war in Ukraine.
Survey results showed the retail price for 2 pounds of ground beef at $11.12, up 36% from last year. Meanwhile, the Agriculture Department's Producer Price Index indicates that compared to a year ago, farm-level cattle prices are up 17.5%, but wholesale beef prices are down 14%. This serves to highlight the differences between farm-level, wholesale and retail beef prices and how the events of the last few years have had significant impacts on the beef production and cattle pricing cycles, making them all hard to predict.
Several other foods in the survey, including chicken breasts, pork chops, homemade potato salad, fresh-squeezed lemonade, pork & beans, hamburger buns and cookies, also increased in price.
One bright spot for consumers is the average retail price for strawberries, which declined by 86 cents compared to a year ago. Sliced cheese and potato chips also dropped in price, 48 cents and 22 cents, respectively. Better weather conditions in some fruit-growing regions and greater retailer pricing flexibility for processed products are the likely drivers behind the modest price declines for these items.