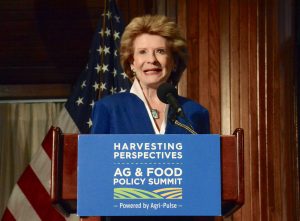 The leaders of the Senate Agriculture Committee addressed the 2022 Agri-Pulse Ag & Food Policy Summit live and in-person Monday at the National Press Club, sharing their perspectives on the next farm bill.
Senate Ag Committee Chairwoman Debbie Stabenow (D-MI) and Senate Ag Committee Ranking Member John Boozman (R-AR) both spent some time visiting the National Ag Day exhibits on the National Mall before heading to the summit.
Agri-Pulse Summit - Sen. Stabenow
(20:05)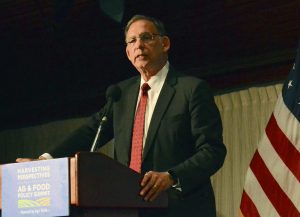 In addition to plans for farm bill hearings in the next few months, Sen. Stabenow talked about the importance of agricultural innovation, trade, infrastructure and climate smart agriculture.
Sen. Boozman said, "The Farm Bill offers us an opportunity to show Americans that we can work together to get important stuff done," and he hopes to see the next farm bill pass with even more votes in the Senate than the record 87-13 in 2018.
Agri-Pulse Summit - Sen. Boozman
(20:28)