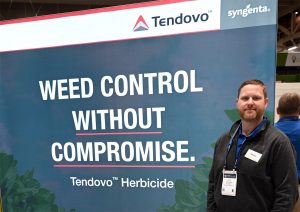 Syngenta's Tendovo is a new pre-emergence herbicide designed to keep weeds from competing with the soybean crop early in the season. With three sites of action and three different ingredients, Tendovo will provide a broad spectrum control of up to 70 weeds.
"We've seen a 4 to 5 bushel an acre advantage in field trials with Tendovo," said Pete Eure, herbicide technical lead at Syngenta, during an interview at Commodity Classic. "By controlling the tough weeds that compete with soybeans for sunlight, water and nutrients, Tendovo helps growers achieve superior potential yield and return on investment (ROI) at harvest."
Eure said the formulation also provides lots of flexibility and can be used across trait platforms and in different geographies and soil types, as well with varying tillage systems.
Interview with Pete Eure, Syngenta herbicide technical lead
(2:58)