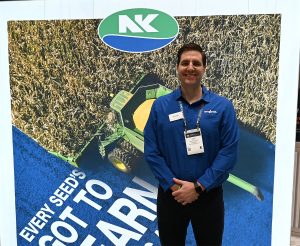 NK Seeds was happy to be at Commodity Classic last week to talk about the new 2023 Field Forged Series just introduced on the heels of a great first year of the Field Forged program. The company is launching 28 total products for 2023 that have been put through extreme tests to ensure they are top performers regardless of trait package.
"When it comes to soybean performance, the proof is really in the data," says Eric Miller, NK Soybean Product Manager. "Last year, Field Forged products with Enlist E3® soybean trait technology yielded 0.8 bushels more than Pioneer® brand products with Enlist E3 soybean trait technology in nearly 1,800 trials, and Field Forged products with XtendFlex® soybean trait technology yielded one bushel more than Asgrow® brand products XtendFlex soybean trait technology in almost 4,000 comparisons. When you consider $15 per bushel soybeans, that's a significant ROI potential for soybean farmers."
Miller said the adoption has been excellent and he encourages farmers to talk to a local retailer or NK sales representative about the Field Forged Series for the 2023 growing season. Learn more in this interview.
Interview with Eric Miller, NK Soybean Product Manager
(2:52)