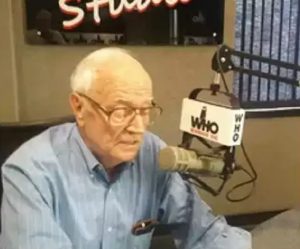 The National Association of Farm Broadcasting announces the passing of 58-year emeritus member Lee Kline at age 91.
Growing up on a farm near Conrad, Iowa, his first on-air experience came in the summer of 1950 at WMT Radio, where he had been awarded the WMT Farm Scholarship and later graduated from Iowa State University in 1951 with a degree in agricultural journalism. He married his high school sweetheart, Lila Jean Stackhouse, in 1952 and completed two years with the U.S. infantry. After a few years as a public relations specialist for the Chicago Stockyards, in 1954, Kline joined the growing farm department at WHO Radio in Des Moines, Iowa, his life-long career dream.
On the air for 41 years as a full-time farm broadcaster for WHO, Kline became known for his warm interviewing style, natural curiosity, recordings of unique sounds and an ability to prompt heart-felt stories from farmers, families, business people, celebrities, and politicians. Kline retired from full-time broadcasting in 1995, but continued his popular, weekly "Lee Kline's Notebook" radio broadcasts on WHO and WMT (Cedar Rapids) for another 23 years until age 88 in 2018.
Kline was a two-time recipient of the Oscar in Agriculture, in 1985 and 1990, and received a Merit Award for the Oscar in Agriculture in 1993; he was recognized dozens of times throughout his career by agriculture organizations and associations.
Gifts may be made to Lee Kline Memorial, Living History Farms and EveryStep Foundation/Kavanagh House hospice.