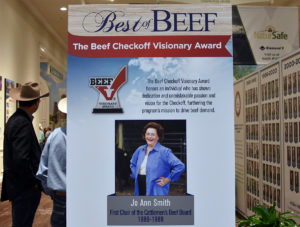 It was 1986 when the beef cattle industry came together in an effort to help itself as prices were plummeting and consumer demand was flagging. A rancher from Wacahoota, Florida by the name of Jo Ann Smith was named as the first chair of the newly formed Cattlemen's Beef Board (CBB).
Fast forward 35 years and today beef prices are near record high, and consumer and wholesale beef demand are both at 30-year highs. The phrases "Real Food for Real People" and "Beef It's What's for Dinner" have become iconic. And the price is still just $1 per head.
As part of the 35th anniversary celebration of the Beef Checkoff at the Cattle Industry Convention and NCBA Trade Show in Nashville last week, CBB presented its first ever Checkoff Visionary Award to Jo Ann Smith.
"Jo Ann's tenacity, hard work and leadership turned the dream of a Beef Checkoff into reality," said Greg Hanes, CEO of the Cattlemen's Beef Board. "She has truly been a trailblazer, and all of us in the beef industry are grateful for what she has accomplished – not just in her role with the CBB, but also with the many other local, state and national beef industry organizations she's been involved with over the years. Truly, there's no one more deserving of our first Checkoff Visionary Award."
CIC2021 Interview with Greg Hanes, CBB CEO
10:12
Jo Ann was not able to attend the convention this year, but we did have the opportunity to speak with her at the 2020 convention about her role in making the beef checkoff happen.
CIC2020 Interview with Jo Ann Smith, Former NCBA President 3:02
Watch the CBB video tribute to Jo Ann Smith

Cattle Industry Convention virtual news room.
2021 Cattle Industry Convention and NCBA Trade Show Photo Album