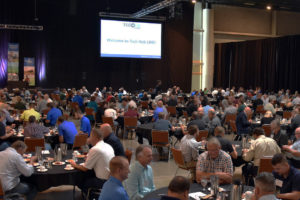 Attendees at the first-ever Tech Hub LIVE Conference & Expo addressed digital data-driven agriculture from all angles at the premier event. Nearly 600 agriculture and technology professionals gathered in-person last month for the first-ever Tech Hub LIVE Conference & Expo to gain actionable, practical knowledge and to connect with others across the entire precision community.
"No matter where you are on the precision agriculture journey, there were informative education sessions, innovative Tech Talks, breakout sessions, and networking opportunities to help you put innovation into practice," says Paul Schrimpf, conference chair of Tech Hub LIVE and group editor of the Agribusiness Group at Meister Media Worldwide.
Attendance exceeded expectations, showing that the industry is excited to be meeting in person again. "We're glad to be back together, knowing that those valuable relationship-building experiences happen over lunch, at a casual reception or field-day tour," Schrimpf says.
"I think it's a great turnout. I'm really impressed with the turnout of the ag retail sector and the ag technology industry. Some of the best players in the industry are here. This is a great event to really get the technology industry together, compare notes, and help each other understand what's next," Jason Weller, President, Truterra LLC, said during the event.
Sponsors and exhibitors supporting Tech Hub LIVE said the energy on the floor and connections forged made Tech Hub LIVE a unique opportunity. Consisting of over 70 booths across all agriculture technology sectors, the tradeshow floor showcased the latest products and solutions, along with demonstrating technologies and educating attendees.
"I'm really pleased to see the large turnout," said Ernie Chappell, Founder and President, EFC Systems, Inc. "A good number of retailers and tech providers are here. As Tech Hub LIVE is the intersection of agriculture and technology, I'm very pleased to see that the crowd and the educational content is phenomenal."
The education was practical, applicable and relevant, from addressing "The Top 10 Technologies You Need to Know Now" to topics related to recruiting, robotics, sensors, and operational efficiency.
"We started a new tradition with Tech Hub LIVE by introducing an event that cuts down industry silos and convenes precision agriculture professionals who share a common desire to advance their agronomic program and position their business for success in a digital age," Schrimpf says. "With this successful debut, we look forward to building the momentum with Tech Hub LIVE 2022 and continuing to engage through the year the community of professionals that is committed to innovation in agriculture."