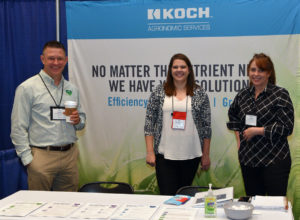 Koch Agronomic Services was one of the companies exhibiting at the Ag Media Summit this week in Kansas City.
Tim Laatsch, director of agronomy, says it gave them a chance to meet with ag media and tell them what is new with Koch. "At Koch we strive to be the leading technology solutions provider to maximize plant performance and minimize environmental impact," said Laatsch.
Laatsch says Koch recently completed its acquisition of Compass Minerals' North American micronutrient assets associated with Wolf Trax®, Rocket Seeds®and Hydro Bullet™ product platforms.
Be sure to listen and subscribe to the Field Notes podcast from Koch Agronomic Services which breaks down the science and technology behind agronomy to help growers do more with less.
In this interview, Laatsch talks about some of their solutions for farmers in the fall.
Interview with Tim Laatsch, Koch Agronomic Services 4:04