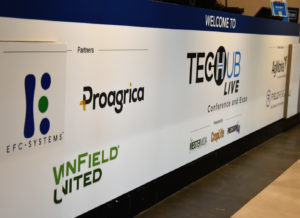 Tech Hub LIVE would still just be a dream of Meister Media Worldwide without the support of three outstanding industry partners who are pioneering the way with the latest solutions in precision agriculture.
EFC Systems is pleased to be a founding Education Partner of Tech Hub LIVE. "Education and getting people out of their comfort zone is important," said Ernie Chappell, founder and president. "We're trying to make this the marriage of agronomy and technology."
Tech Hub LIVE Ernie Chappell, EFC Systems
(2:38)
Proagrica is a global provider of independent connectivity and data-driven support solutions for the agriculture industry and for them it is about increasing industry knowledge while engaging with the right strategic partners and developing relationships. "We're always looking for ways to connect with our customers and other members of the industry," said Director of Business Development Shawn Peterson. "Bringing data connectivity to the market is something we're really passionate about."
Tech Hub LIVE Shawn Peterson, Proagrica
(5:24)
WinField United and Truterra jumped on board as a Tech Hub LIVE partner because of their goal to deliver innovative solutions to help farmers. "We've always wanted to be on the leading edge with information and leading technologies," said Mark Olson with Winfield.
Olson and Brent Hall with Truterra talk about what they do in this interview.
Tech Hub LIVE Winfield/Truterra interview
(2:57)