Benson Hill has exceeded its previous target of doubling contracted acres of its proprietary soybean varieties with partner farmers in the U.S. to grow 70,000 acres in the 2021 crop year versus 30,000 acres in the 2020 crop year.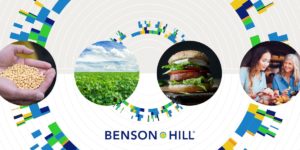 These proprietary non-GMO soybean varieties are bred by Benson Hill to be higher in protein, have benefits of omega-9 fatty acids and low anti-nutrients. This year's crop plans include the first commercial plantings of Benson Hill's Ultra-High Protein soybeans, intended for the human food ingredients market. Additional proprietary products from this crop year include feed ingredients for aquaculture, swine and poultry as well as the specialty cooking oil markets As these planted crops are harvested, Benson Hill expects to have enhanced confidence into its revenue visibility in 2022 for its Ingredient segment. The Company forecasts substantial Ingredients segment growth, which can help fuel the growing plant-based meat substitute market that is expected to reach approximately $140 billion by 2029, according to industry research.
"We believe the food system needs to evolve to meet the growing demands of consumers for better food and feed products with improved sustainability," said Matt Crisp, Chief Executive Officer of Benson Hill. "With our partners, we intend to build a more health-conscious, diverse and resilient food system and provide the raw material and visibility into our revenue opportunity into 2022."
"Identity preserved crops that help us produce more sustainably while meeting consumer demand for more healthy, flavorful and high value products are a key part of the future of farming. We're proud to be part of Benson Hill's integrated supply chain and contributing to a better food system," said Matt Danner, co-owner of Templeton Family Farms in Templeton, Iowa.
Benson Hill's proprietary soy varieties are developed, tested and deployed using a data-driven approach, driven by its proprietary CropOS® technology platform which integrates an extensive data library that spans the entire value chain and has the potential to shave years off the breeding process and improve the environmental impact in agriculture. With its Ultra-High Protein non-GMO soybean products, Benson Hill expects to eliminate the costly energy and water-intensive soy protein concentrate step, and provide scalable, less processed ingredient alternatives for plant-based food producers.