Benson Hill is collaborating with family-owned Rose Acre Farms to optimize its soybean processing capacity in Seymour, Indiana, and build out the supply chain for high-protein, high-oleic, low anti-nutrient soybeans. The partnership opens a new pipeline for plant protein ingredients and supports Benson Hill's plans to scale soybean production and grower relationships.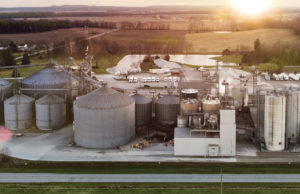 This collaboration will allow local growers to tap into price premiums for food- and feed-grade identity-preserved, non-GMO soybeans, and support Benson Hill as it meets growing demand for high-protein animal feed and plant protein ingredients for plant-based foods. The new collaboration will also support jobs in the area and boost the local economy.
Benson Hill's portfolio of high-quality soybean varieties delivers a full range of in-demand premium attributes, including better digestibility, heart-healthy omega fatty acids, and higher protein that serve the plant-based food, healthy oils, animal feed and aquaculture markets.
Benson Hill has partnered with growers to contract more than 30,000 acres of premium soybeans this growing season, including significant acreage in Indiana. To minimize cost and the carbon footprint of transportation, Benson Hill sought out Rose Acre Farms as a partner to develop a processing facility in close radius to its grower partners. This announcement will also support Benson Hill's plans to significantly increase its future contract acres in the area. Benson Hill and Rose Acre Farms are now actively enrolling interested growers for the 2021 growing season.