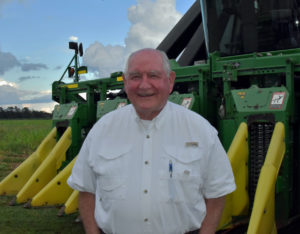 U.S. Secretary of Agriculture Sonny Perdue took a tour of crop damage from Hurricane Sally in Alabama and Florida on Monday. He visited the Jenkins Farm in Jay, Florida and heard from farmers in the panhandle of the state who suffered damage to cotton and peanut crops.
"What I've seen is crops that have probably been cut in half," said Sec. Perdue. "Cotton that was virtually ready to be harvested, peanuts that were ready to be harvested down to half a crop. And there's not that kind of margin in agriculture."
Sec. Perdue acknowledged that all of the ad hoc disaster aid lately for farmers and ranchers could be detrimental to farm policy going forward. "We would love to move away from any kind of ad hoc disaster (aid) but also building a robust program within USDA through crop insurance and other means," said Perdue.
Talking about the latest round of the Coronavirus Food Assistance Program (CFAP 2), the secretary confirmed that he believes Congress has to approve any aid for ethanol producers or meat processors because USDA does not have the authority to allocate payments through the Commodity Credit Corporation. "Collin Peterson is chairman of the House Agriculture Committee and it's up to him," said Perdue. "Congress through a majority vote could change it at any time."
Rep. Matt Gaetz (R-FL), who represents the 1st district of Florida, joined Secretary Perdue at the farm.
Secretary Perdue visits Florida panhandle photo album
Press availability with Secretary Perdue – comments on storm damage, disaster aid, CFAP2 and more
Secretary Perdue press avail (5:34)


Rep. Gaetz and Secretary Perdue hear from farmers and answer questions during roundtable discussion.
Secretary Perdue visits Florida panhandle (46:21)


Florida Peanut Producers Executive Director Ken Barton
Interview with Ken Barton, Florida Peanut Producers (2:40)


WUWF reporter Jennie McKeon interviews farm owner Ryan Jenkins about crop damage
Interview with Florida farmer Ryan Jenkins (5:48)