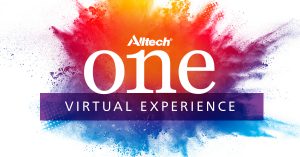 The Alltech ONE Virtual Experience kicks off today at precisely 9:00 a.m. Eastern time, or whatever time that is wherever you are.
The week-long event begins with a welcome address from Alltech President and CEO Dr. Mark Lyons, followed by keynote presenter Cady Coleman, Retired NASA Astronaut and STEM Advocate. Live question and answer sessions with attendees will be part of the experience, and on-demand presentations on a variety of focus session topics will be available immediately for attendees.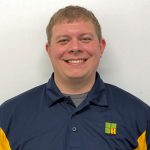 Focus sessions include presentations on some of the latest beef, dairy, poultry and pig research for producers. One example is a new solution to help reduce vice behaviors, like tail biting, in pigs called AllBite™.
Dr. Andrew Bents, Swine Technical Veterinarian for Hubbard Feeds, talks about the possibilities of the AllBite block's unique delivery system, which makes it a cost-effective solution for certain vice behaviors.
Listen to an interview with Dr. Bents here – and if you have not yet registered for the Alltech ONE Virtual Experience, it's just a click away!
Alltech ONE interview with Dr. Andrew Bents, Hubbard Feeds
(5:48)