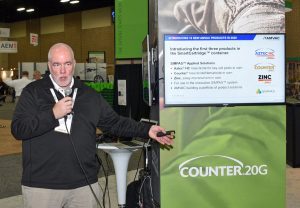 AMVAC®, an American Vanguard® company, has selected COUNTER® Insecticide/Nematicide, broad spectrum AZTEC® HC Insecticide and zinc, a key micronutrient in corn, as the first products to be packaged in SmartCartridge™ containers and offered as part of SIMPAS™ Applied Solutions, pending EPA registration. SIMPAS (Smart Integrated Multi-Product Application System) is being introduced in a few select markets this year with a full launch planned in 2021.
The announcement was one of many made by AMVAC at the 2020 Commodity Classic.
Jim Lappin, SIMPAS Director, says the SmartCartridge™ containers provide flexibility for farmers. "A grower's going to be able to really focus on problem zones in his field…and the SIMPAS system is going to keep track of what he applies and where he applies it," said Lappin.
Interview with Jim Lappin, Director - SIMPAS
3:56
Corey Ritter, Sales Support Technician provides a look at the SIMPAS system and how the SmartCartridge™ containers work in it.