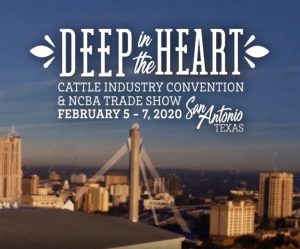 Cattlemen and cattlewomen from around the nation are heading Deep in the Heart of Texas for the 2020 Cattle Industry Convention and NCBA Trade Show in San Antonio, Texas Feb. 5-7. The convention will feature business meetings of the National Cattlemen's Beef Association, Cattlemen's Beef Board and the American National CattleWomen.
Kicking off the event at the Opening General Session Feb. 5 will be retired U.S. Navy Captain Scott Kelly, an astronaut who spent a record-breaking year in space, laying the groundwork for the future of space travel and exploration. The Closing General Session Feb. 7 will be a completely different experience, including a celebration of the industry's Beef Quality Assurance Program. Sponsored by the Beef Quality Assurance Awards Program, the Closing General Session on Feb. 7 will be a fast-paced event that recognizes BQA award recipients, and highlights consumer-directed efforts promoting the BQA Program. New developments in BQA will also be introduced. A special reception for BQA award recipients will be held immediately following the closing session. Closing session speaker will be Kevin Brown, who for two decades was a successful executive helping grow a little-known family business into an industry giant with annual revenues reaching $2 billion.
CattleFax will present its CattleFax U.S. Global Protein & Grain Outlook Seminar; Dr. Art Douglas will present his 2020 weather forecast for the United States and the world, and a grain outlook will also be shared. And then there is the NCBA Trade Show featuring hundreds of companies providing all types of products and services and the latest in technology to the cattle industry.
Each year over 7,000 cattlemen gather together for this largest cattle industry event in the country and this year's convention and trade show offers more education, entertainment and excitement than ever. Listen to a preview interview with Marvin Kokes, Senior Vice President, Corporate Relations and Events, NCBA to learn more: Interview with Marvin Kokes, NCBA
For the third year we will be helping NCBA get content out to media from the event on the official 2020 Cattle Industry Convention Virtual Newsroom.