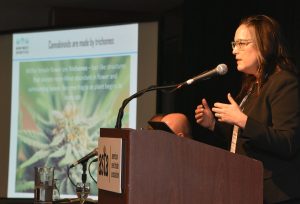 The Hemp Seed Opportunities & Challenges session at the American Seed Trade Association's 2019 CSS and Seed Expo was packed at the end of the day on Wednesday, showing the high level of interest the seed industry has in this new and growing commodity.
Participating in the session were Pat Miller, ASTA's Director of State Government Affairs; Wendy Mosher with New West Genetics, ASTA's Hemp Seed Working Group chair; and Garry Meier and Jeff Kostuik of Hemp Genetics International.
After Miller gave a legal and regulatory update, Mosher provided a fascinating overview of hemp production, wrapping up with a perspective on hemp seed genetics and sourcing.
ASTACSS19 Hemp session - Pat Miller, ASTA
(14:46)
ASTACSS19 Wendy Mosher, New West Genetics
(51:11)
ASTACSS19 Hemp Genetics International
(23:20)