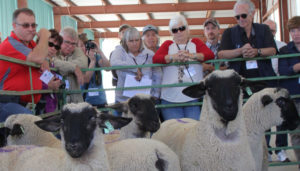 American Lamb Board officials are pleased with the recommendations that came out of the first American Lamb Summit. Sponsored by the American Lamb Board (ALB) and Premier 1 Supplies, the summit brought together 200 sheep producers, feeders and packers from all over the country to Colorado State University (CSU) in Ft. Collins, CO, August 27-28.
The summit concluded that all segments of the industry need to further improve lamb quality to keep and attract new customers and become more efficient to recapture market share from imported lamb. At the same time, production technologies and product research put industry success within grasp.
"I have never been so enthusiastic about our industry's opportunities, but we just can't allow ourselves to be complacent or accept status quo," said Dale Thorne, American Lamb Board chairman, a sheep producer and feeder from Michigan. Thorne stressed, "the end-game is profitability for all aspects of our industry."
The Summit was designed to instill relevant, meaningful knowledge that can be implemented immediately to address both current and future needs. It also sought to inspire collaboration, networking and information sharing across all segments and geographic regions of the American Lamb industry.