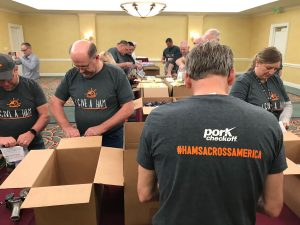 The National Pork Board kicked off activities for Pork Industry Forum in Orlando this week by packing 900 meals to help feed hungry children in the area in partnership with the Second Harvest Food Bank of Central Florida. Contributing to a better way of life in the communities where pig farmers live and work is one of the We Care ethical principles.
"We have a We Care principal that we live by and we are really in tune with the environment and we really care about our community," said NPB member Deborah Ballance of Fremont, NC. "We like to give back to the community we may be visiting."
Second Harvest Food Bank's Hi-Five Kids Pack program will distribute the meals. Since 2006, the program supports educators seeking a solution to students who came to school sick and unable to learn on a Monday because they had not eaten since their school lunch the previous Friday. Second Harvest Food Bank partners with elementary schools that have a significant percentage of student participation in free and reduced-cost lunch programs to distribute the packs.
Learn more in this interview with Ballance: Interview with Pork Board member Deb Ballance, North Carolina