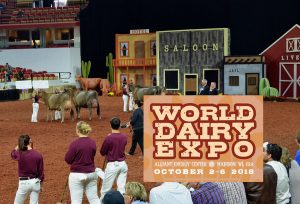 Sporting a theme this year of "The Next Frontier," World Dairy Expo is in full swing right now in Madison, Wisconsin.
Communications Specialist Katie Schmitt says there are almost 900 companies exhibiting at the expo this year. "Our trade show is really a great place for farmers to find that new technology and do some research," says Schmitt, who says the theme of the show is about what is next on the horizon for the dairy industry. "It is looking into what is in dairy's future, whether it's in the genetic side of our show world or in the technology of the trade show."
On the show ring floor, some breed champions have already been crowned, including the Grand Champion Ayrshire, Ruth, exhibited by Palmrya Farm-Evan Creek of Hagerstown, Md., who won the trophy for the second year.
Listen to Jamie's interview with Katie from WDE18: Interview with Katie Schmitt, World Dairy Expo Communications