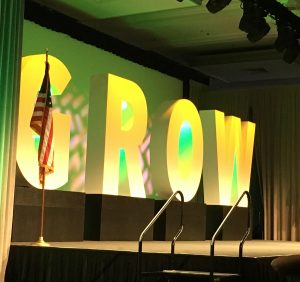 Illinois FFA State Officers including Treasurer Taylor Hartke helped to bring in the flags during a moving ceremony to open the GROWMARK Annual Meeting in Chicago. The Illinois FFA members joined FFA officers from Iowa and Wisconsin and 4-H youth from Ontario in marching in the 4-H and FFA flags along with the American and Canadian flags. Hartke said FFA members across the country appreciate organizations like GROWMARK and the opportunity to learn and explore career paths in agriculture.
"The support we get from GROWMARK as well as the other family of companies in Farm Bureau is really important for our organization in propelling youth to the next level, especially when we talk about career success begin part of our motto and mission statement for FFA," said Hartke.
She said networking opportunities and relationships like those with GROWMARK are vital for students, whether they are headed into traditional production agriculture or a career in communications, marketing or another area that supports agriculture.
Listen to Carrie's interview with Taylor here: Interview with Taylor Hartke, Illinois FFA Treasurer at GROWMARK Annual Meeting