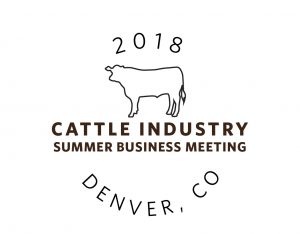 Research, promotion and policy discussions filled work sessions at this year's Cattle Industry Summer Business Meeting in Denver, attended by more than 700 cattle producers.
Trade continues to be an important topic in the cattle industry, as well as environmental property rights. Other talks centered around alternative proteins and which agency should regulate the inspection and branding of those products. National Cattlemen's Beef Association (NCBA) CEO Kendal Frazier said producers are optimistic about the cattle industry for now.
"People seem to be pretty upbeat. We're selling record amounts of beef at good prices. Demand domestically and internationally is really good for beef. Except for some areas of the country that have experienced some pretty severe drought situations, the cattlemen from across the country seem to be in a pretty positive mood," said Frazier.
The group also announced six regional winners of Environmental Stewardship Awards. This year's finalists are Birdcall and Clark Ranch of Henrietta, Texas, Thunder View Farms of Grahamsville, NY, Haleakala Ranch of Makawao, Hawaii, The Hahn Ranch of Townsend, Montana, Moes Feedlot of Watertown, SD, and Landuyt Land and Livestock of Walnut Grove, Minnesota. They will go on to national competition and recognition at the 2019 Cattle Industry Convention and NCBA Trade Show in New Orleans in January. Registration for that meeting opens Oct. 1.
Listen to Chuck's interview with Kendal Frazier here: Interview with Kendal Frazier, NCBA