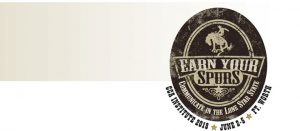 Its time to register for the 2018 Cooperative Communicators Institute in Fort Worth, Texas. The conference is coming up June 2-5, with presentations on photography, infographics, computer security and more.
The "Earn Your Spurs" conference will also recognize the 2018 Graznak and Klinefelter award honorees at the annual awards luncheon. Other available activities include a night out at Billy Bob's Texas, the world's largest honky tonk.
The early bird registration deadline is May 9. Rooms are available at the historic Hilton Forth Worth for a group rate. For more information or to register, visit https://www.communicators.coop/2018Institute/.