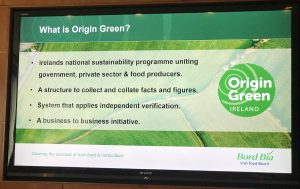 While traveling Ireland with Alltech and KEENAN we stopped by Bord Bia Irish Food Board to learn more about the role they play in promoting Irish food and drink worldwide.
One of the prize projects they have developed is Origin Green, a program centered around food sustainability. The unique national concept brings in industry, the state and stakeholders within the industry to all work together. Mary Morrissey, Bord Bia Sr. Manager Food & Beverage Division, said, "It starts at the farm level. The next stage up is the manufacturing level and recently we've added the final end of the leg, retailers and foodservice operators."
Just like farming and ranching in the U.S., Ireland is faced with the need to prove sustainability. This program is doing just that. "On the farm, it is about setting a standard and auditing farmers at either the beef or dairy assurance scheme and then moving on to the manufacturing and further up the supply chain.
Origin Green's 280+ verified members now account for over 90% of Ireland's total food and drink exports, a fourth consecutive year of growth. And their over 500 participating companies' account for 95% of total food and drink exports, highlighting the ongoing and sustained commitment of Irish food and drink manufacturers towards sustainability and Origin Green.
Listen to my complete interview with Mary to learn more about Origin Green and how they are marketing Ireland's brands internationally: Interview with Mary Morrissey, Bord Bia
Alltech KEENAN Great Green Getaway Photo Album
Great Green Getaway Coverage Sponsored by Alltech & KEENAN