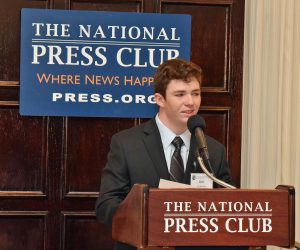 Some 400 young people from around the country entered the National Ag Day written essay contest and the winning entry was Rio Bonham from Tishomingo, Oklahoma. He received a $1,000 prize and travel to Washington, D.C., for recognition during the National Press Club Event this week.
With the theme Agriculture: Food for Life, Rio's essay highlighted job opportunities in an industry vital to everyone's life.
"From the jeans they wear, to the E-10 they put in their car, to every single thing they eat or drink, high schoolers must not only understand but appreciate all that agriculture produces for them. In addition, agriculture has thousands of job opportunities for young adults if their eyes were just opened to them."
Listen to Rio read his essay here: Ag Day Essay winner Rio Bonham
The national video essay winner for 2018 is Zoey McCormick from Carlisle, Indiana. She will win a $1,000 prize for her video.
The Ag Day Essay Contest is sponsored by CHS Inc., National Association of Farm Broadcasting and Farm
Progress.