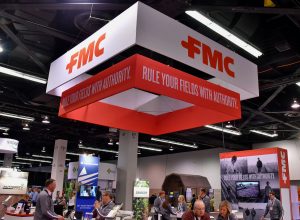 FMC is protecting the investment of the farmers who trust the company's products with exciting precision products available for the 2018 growing season.
"FMC is really proud of the product offerings we have for our grower customers for controlling pests, but even more effectively is a way to put it on in a precise way that makes sure all of the grower's invested dollars get put to work protecting this crop," said Mike Harper, industry relations manager.
FMC offers a couple of ways to do that, including the 3RIVE 3D platform and PrecisionPac technology. Harper said the 3RIVE 3D system mounts on the planter and applies a precise amount of foam bead into the furrow so the grower is ensured of getting pest control in a low amount of product that is environmentally friendly. Growers can apply almost 490 acres with one fill up, so does not slow down planting process. PrecisionPac is a dry, granular herbicide application metering system that retailers can use. Growers get very precise measurements of product mixed together in a container that can be disposed of after the application.
Harper said both systems offer great customer support and can work within the FMC Freedom Pass program to offer rebates to customers.
Listen to Chuck's interview with Mike here: Interview with Mike Harper, FMC