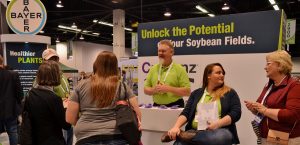 Bayer is working to ensure every grower's portfolio offers significant products to meet the agronomic challenges that may come along. While many growers have already made variety decisions for the 2018 growing season, there is still seed for sale. Bayer's Monty Malone said Credenz varieties continue to be popular with growers.
"This is a great time to be involved in any kind of trait development in terms of crops. It's really exciting," said Malone, who was at the Bayer AgVocacy Forum during the Commodity Classic in Anaheim. "Credenz is focused on LibertyLink. That's our flagship platform and it will be for the foreseeable future. Over 90 percent of our portfolio is Liberty enabled, that you can spray over the top, and all of the varieties that we plan to add for this next year will be enable by LibertyLink, as well. We hope to add 14 more."
Malone encouraged farmers to contact a local Bayer sales representative or go to the company's website for more information about Credenz soybean varieties.
Tailored Credenz Soybean Varieties: Interview with Monty Malone, Bayer CropScience
Bayer at 2018 Commodity Classic Photo Album
Photos, video, and audio interviews from Bayer at Commodity Classic