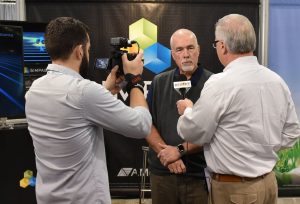 AMVAC introduced three new products for the corn and soybean market at the 2018 Commodity Classic in Anaheim.
Index Liquid At-Plant Insecticide offers two modes of action to control all species of rootworm and a broad spectrum of seed attacking pests. Traits no longer offer full protection for growers, according to Jim Lappin, AMVAC crop marketing director for corn and soybeans.
"Traits aren't targeted at seed attacking pests. Seed treatments aren't targeting at rootworm," explained Lappin. "So, by using a dual mode of action product like Index, you can supplement the control of both your rootworm and your seed attacking pest. In fact, our data has shown when you use a supplemental insecticide for rootworm control, you're getting an added yield bump and the reason we're seeing that is a lot of growers have gone to these refuge in a bag hybrids, so you're leaving five to 10 percent of your plants unprotected out there that don't have those traits. The other issue we have is all four of the commercial Bt traits for rootworm now have demonstrated field resistance somewhere."
Lappin said a broader level of protection will ultimately result with higher yields. Other new products from AMVAC include ImpactZ herbicide – a premix of Impact plus atrazine – and Acropolis fungicide, which offers two modes of action to fight frog eye leaf spot and white mold, as well as a broad range of other diseases. All three products are available for the 2018 growing season.
Listen to Chuck's interview with Jim here: Interview with Jim Lappin, AMVAC