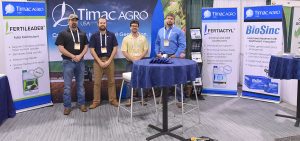 The biological segment of agriculture is really beginning to take off, and that was evident at the 2018 Commodity Classic in Anaheim.
"When I look at ag in general and I look at the nutrient requirements as we kind of expand our knowledge on how we feed these crops, it's going to be vitally important for us to look at these new technologies in the biological industry to advance yields and quality while kind of keeping that eye on the environmental aspects of nutrients, and so how efficient we can be with nutrients is going to play big in how these things interact in our cropping situations," said Jordan Martin, Pennsylvania regional sales manager with Timac Agro.
Timac Agro offers a broad range of products including granular fertilizer with marine sea calcium, homogenized fertilizer granular, liquid water-soluble fertilizer, foliar water-soluble fertilizer, and two main classes of biostimulants (ground and foliar). The company's newest product, Fertiactyl ST, is a seed treatment using an active ingredient that is a root and plant biostimulant to reduce stress in adverse growing conditions. Available for the 2018 growing season, the product targets corn, soybean and small grains growers.
2018 Commodity Classic Photo Album
Listen to Chuck's interview here: Interview with Timac Agro