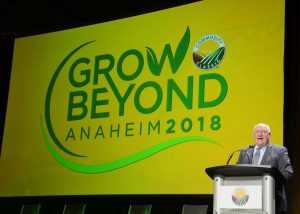 A lot of drama and speculation preceded the appearance of Agriculture Secretary Sonny Perdue at Commodity Classic, thanks to some reports questioning his support for the Renewable Fuel Standard (RFS), so he wasted no time in stating his "unequivocal" support for the law.
"I have not and will not support any policies in this country that diminish the demand, undermine RFS and are harmful to our agricultural producers," Perdue said in his address.
The secretary took additional questions about the issue, resulting from a meeting earlier this week during the press conference and even talked about a couple of other issues besides biofuels.
U.S. Secretary of Agriculture, Sonny Perdue, speech:
Secretary Perdue Speech
U.S. Secretary of Agriculture, Sonny Perdue, press conference:
Secretary Perdue Press Conference
Post Update:
U.S. Secretary of Agriculture Sonny Perdue held a short town hall on the main stage in the Trade Show. He answered some direct questions about the RFS and RINS from corn growers: Secretary Perdue Main Stage Town Hall