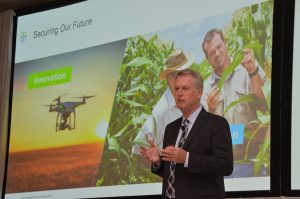 The 2018 Bayer AgVocacy Forum in Anaheim, CA, held February 25-26, sets the stage for conversations centered around food and agriculture. Global Head of R&D, Crop Science division of Bayer, Adrian Percy, kicked things off by discussing 'Sustaining Ag's Future' and acceptance of digitalization.
"The innovation space in agriculture is really exciting. There is a lot of investment coming in from the outside via venture capital, private equity. These are companies who have never associated with agriculture," Adrian said.
He also added that collaboration and innovation go hand in hand. However, the latest innovations in agriculture are for nothing if we don't have the trust of the public. #AgVocate is just one way Bayer is elevating the voice of the farmer.
Listen to his complete remarks here: Remarks from Adrian Percy, Bayer CropScience
Listen to our complete interivew here: Interview with Adrian Percy, Bayer CropScience
View and download photos here: 2018 Bayer AgVocacy Forum Photo Album
Photos, video, and audio interviews from Bayer at Commodity Classic