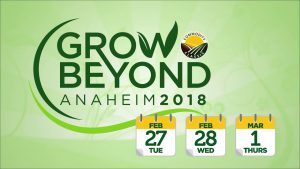 Farmers and others in the agriculture industry are gearing up for this year's Commodity Classic next week in Anaheim, Calif. The annual gathering of corn, soybean, sorghum and wheat growers will start a day early this year, kicking off with the official welcome reception on Monday evening instead of Tuesday and wrapping up with entertainment on Thursday night.
U.S. Secretary of Agriculture Sonny Perdue will keynote the general session on Wednesday, Feb. 28 at 9:00 a.m. at the Anaheim Convention Center. Secretary Perdue is expected to share his vision for the U.S. Department of Agriculture including thoughts on a new Farm Bill, international trade, rural development and the role of agriculture in America's food security and economic vitality.
The conference is also an opportunity for farmer led organizations like the National Corn Growers Association (NCGA) to hear from their members concerning policy priorities.
"It's exciting to be in Anaheim, to bring our farmers together to craft the direction of our organization through the policy process. There's learning and education opportunities where farmers can look at the profitability challenges that we're facing right now and pick up new tools, tips, tricks that they can use to be more successful on their farms," said Chris Novak, NCGA CEO.
Commodity Classic will also partner with Feeding America again this year. Feeding America works with U.S. food banks to distribute food to more than 60,000 food pantries. Secure donations can be made by visiting CommodityClassic.com and clicking on the Feeding America logo on the home page.
Although pre-registration is now closed, walk-in registration for single day attendance or the entire event is available on-site when the Commodity Classic opens on Tuesday.
Listen to Chuck's interview with Chris Novak here: Classic interview with Chris Novak, NCGA
AgWired's coverage of Classic this year will start with the Bayer Agvocacy Forum on Sunday afternoon, and include all the latest from John Deere and FMC, as well as AMVAC, Farm Credit, and AEM.