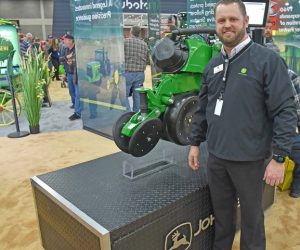 Farmers who are preparing for the upcoming planting season might be interested in John Deere's Mobile Row Unit Run Off with the PlanterPlus App, a quick and efficient way to dial in their rows and conduct a meter performance test to assure accuracy in ExactEmerge or MaxEmerge 5e planters.
The system connects the display in the tractor to a farmer's mobile device, giving them the same capability they used to have only when at the equipment dealership.
"They can stand at the back of the planter, select the row unit they want to look at, and engage the planter with their seed and look at the singulation percentages, the skips, the multiples, and adjust the vacuum pressure so that it matches the seed that they're wanting to plant with, but all while they're on their own place," said Kevin Ripple, product line manager for planters with John Deere.
Ripple said the product was released within the last two years for model 2018 planters. In addition, he said opportunities for retro fit kits have been expanded to go back to the year 2005 on a number of models.
Listen to Chuck's interview with Kevin here: Kevin Ripple, John Deere