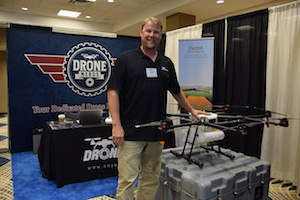 As self-proclaimed "ag nerds" here at AgWired, we were excited to meet the Drone Nerds at the recent Info Ag Conference in St. Louis, Missouri.  Brian Grant, Director of enterprise sales, talked about the company's dealer network and the service provided to help growers get the right drone setup for their operation.
He also showed off some pretty cool toys.  Of course, there are the drones we've typically seen at such shows; small units that take pictures and videos, use a software platform to interpret data, and provide insights farmers can act upon.  At InfoAg, however, Drone Nerds showed off their spraying applicaion drone, one that picks up where a smaller drone leaves off.  This drone takes the information provided and heads back out to the field to apply, say, insecticide to an area of infestation, taking off and coming right back to you when it needs a new battery or a refill of crop protection products.
Once you understand what the problem is, Grant says, this drone lets you do something about it.  That's how you make sure your yields at the end of the year are what they were forecast to be.
Learn more about Drone Nerds and the spraying application drone in my full interview with Grant here: Interview with Brian Grant, Drone Nerds