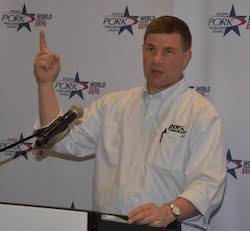 The consumer market is changing quickly, something the Pork Checkoff understands well. President Terry O'Neel announced at the World Pork Expo that the organization is putting the polish on a plan to reposition pork marketing towards the "three M's": Millennial, Mobile, and Multicultural audiences.
"The Pork Checkoff has embarked on a journey to determine how best to market pork today," O'Neel said. "The direction may be drastically different than we've seen in the last quarter century."
The National Pork Board has spent the last year researching the needs of the pork market using in-depth discussions with producers, packers, processors, retailers, foodservice, and consumers to find the sweet spot between market trends, market diversity, and tools that reach younger, diverse audiences. The changing marketplace should be viewed as an opportunity, said Jarrod Sutton, the National Pork Board's vice president of domestic marketing.
Listen to the announcement here to learn more: Pork Checkoff Marketing Announcement