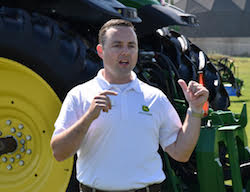 Dennis Ogle, Senior Marketing Representative, focused on the R Series tractors at John Deere's Reveal event in Moline, Illinois last week. They offer almost anything you could want for on-farm jobs, Ogle explains.
From the 1000 tractor to the 8 R option, there are big things to think about. Choose tracked models or wheels, pick the cab comfort level you'll need for the time spent in the equipment, and decide how much horsepower the operation needs.
"The big thing about the 8R tractors is it's a versatile tractor," Ogle says. "A lot of guys within row crops love to use it, a lot of specialty guys. Folks can use it for planting, for tillage, put it on a grain cart, they can ballast it differently, they can change a lot of different features on the settings for optionality to make it really work for their operations."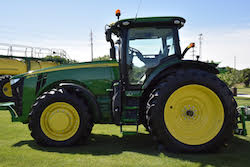 The 6 and 7 R family of tractors is equally versital for dairy or hay and forage folks. They offer the horsepower while being compact and maneuverable. The 1000 to 5000 series tractors do utility work– loader work and smaller round baler jobs.
Whatever the need, your local John Deere dealer is the tried and true answer for questions. Listen to Jamie's interview with Ogle here: Interview with Dennis Ogle, John Deere