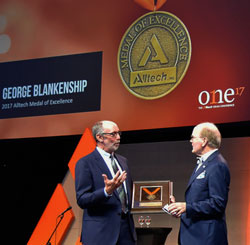 Alltech founder Dr. Pearse Lyons presented former Tesla Motors, Apple Computer and GAP Inc. executive George Blankenship with the Alltech Medal of Excellence at ONE: The Alltech Ideas Conference in Lexington, Kentucky this week.
Alltech's highest accolade, the medal is awarded annually to someone of great accomplishment and leadership. Previous honorees include former U.S. Secretary of State Colin Powell and Norman Borlaug, the father of "the Green Revolution." Blankenship received the medal in recognition of his ability to create unrivaled customer experiences with two of the most disruptive brands of our time: Apple and Tesla.
"George Blankenship is the epitome of disruption, and I pay homage to his strategies in leadership and breaking the norm," said Dr. Lyons. "Our ONE conference this year is all about celebrating those who take risks and disrupt the norm."
"Never ever let anyone get in the way of what you know is the right thing to do deep down inside," said Blankenship. "This conference is about the ONE thing that makes a difference."
Blankenship helped develop Apple, Tesla and GAP's revolutionary retail philosophies and transform the customer experience.
Blankenship's presentation was fascinating but we can only use a few minutes of it, so here is his conclusion. George Blankenship at Alltech ONE17