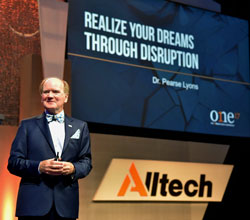 Dr. Pearse Lyons has built a small empire from modest beginnings in Lexington, Kentucky in 1980 and he has done it all by being disruptive.
"The question is what disruptive road are you on?" Dr. Lyons asked at the beginning of his presentation during the opening session of ONE: The Alltech Ideas Conference 2017 – Disrupt the Disruptors.
Lyons talked about some of the many ways that Alltech is examining disruptive ideas for the future of agriculture and beyond, such as finding a way to prevent Alzheimer's, and said it all starts with a dream. "Mainstream companies do products, great companies do dreams," he said.
Listen to Dr. Lyons and let him inspire you to dream disruptive dreams: Alltech President Pearse Lyons