Prior to National Ag Day Activities in Washington, DC next week, Agri-Pulse will be holding a big Farm Bill Summit, which is part of their on-going Farm Bill Series.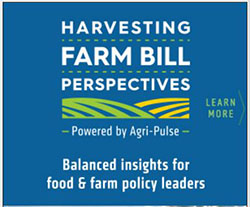 Cindy and Jamie Johansen will be attending the big event on Monday. To get a preview of it, I spoke with Sara Wyant of Agri-Pulse. The event is free but by invite only and it's my understanding that it is "full!" By full, we are talking about over 400 registered to attend. It will be held at the National Press Club and consist of panels on different topics related to the farm bill. Sara says that it promises to be a great exchange of ideas by some of the most experienced Farm Bill veterans in the industry!
Listen to this week's program for more information here: Agri-Pulse Farm Bill Summit
Subscribe to the ZimmCast podcast here. Use this url in iTunes or your favorite news reader program/app.